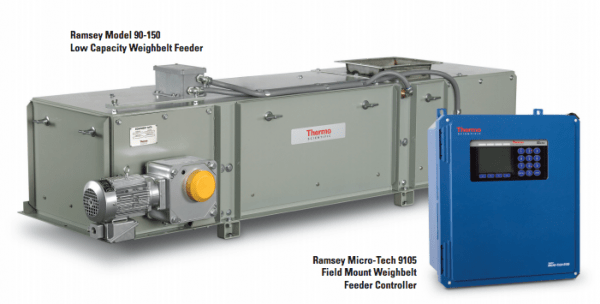 Accurate feeding of a dry bulk material is often critical to maintaining product quality. Thermo ScientificTM volumetric and loss-in-weight feeders maintain quality and weighing accuracy, reduce material waste and improve blend consistency for increased profits.
Applications
• Apple (frozen)
• Arabic gum
• Blueberry (frozen) • Cereal
• Cocoa
• Coffee
• Enzymes
• Flour
• Hydrated lime
• Milk in powder
• Silica
• Soybean
• Spinach (powder) • Sugar
• Vanilla extract
• Vanillin
• Water
If your product is not listed please send us
a sample; we will be glad to test it with our feeders and let you know which model is the best
for your need.
Thermo Scientific Standard
Modular Volumetric Feeder
Volumetric feeders are utilized in bulk material feeding applications when the feed rate and total weight measurements are not necessary and accuracy requirements of ±1-2% are permissible. Volumetric adjustments are accomplished through the use of an open loop variable speed control, which can be operated either locally or remotely.
The Thermo Scientific standard modular volumetric feeder is available in four sizes and provides accurate feeding up to 11000 dm3/h (388 ft3/h). The unit's design affords the ability of handling a broad range of bulk solid materials with various characteristics and may be equipped with an integral, free-flowing hopper, or an optional dust containment trough cover for use directly beneath a bulk material storage bin. The modular design of the volumetric feeder permits selection of the most economical design required for a specific application with the unparalleled ability to upgrade the design as materials and characteristics change.
Various system options may be added to allow the unit to adapt to a broad range of feeding applications and materials.
• A standard feeder with static hopper, trough and feed screw for free-flowing materials.
• An agitator conditioner feeder with a secondary trough conditioning screw for semi-flowing materials.
• A vibrated feeder using controlled vibration for non-free-flowing materials.
hermo Scientific Ramsey Loss-In-Weight Feeder
The continuous loss-in-weight principle involves weighing the entire feeding system (hopper, feeder, and bulk material) by means of a static-type scale system, and controlling the discharge feed rate of the bulk material by means of a variable speed motor.
Material is discharged from the system, via screw or vibratory tube or tray, with the measured "loss in weight" per unit time (dv/dt) compared to the desired (set) feed rate. The difference between the actual (measured) rate and the desired (set) rate produce a corrective action by the feed rate controller, the Thermo ScientificTM RamseyTM Micro-Tech 9104, which automatically adjusts the feeder speed, thus maintaining accurate feed rates with no process lag.
When the measured weight in the hopper reaches the hopper low (refill) level, the controller affixes the feed system into volumetric control. The hopper is then quickly recharged (manually or automatically), and the loss-in-weight control action repeats.
In a batch loss-in-weight system, the design is similar to a continuous loss-in-weight system. However, the accuracy of the final weight at the end of the feed (batch) cycle is typically more critical than the actual feed rate control.
The RamseyTM Micro-Tech 9104 controller accomplishes this by providing a high feed rate signal to the variable speed drive for quick filling and then switching to a low feed rate control signal for precise, fine control at the end of the batch.
Thermo Scientific Ramsey Micro-Tech 9104 Loss-In-Weight Feeder Controller
These controllers are specifically designed for continuous or batch loss-in-weight or gain-in-weight applications. The Ramsey Micro-Tech 9104 provides easy operation and calibration with large easy-to-read displays, straight forward, tactile-touch keyboards and software that prompts you step-by-step through the proper set-up and operational procedures.