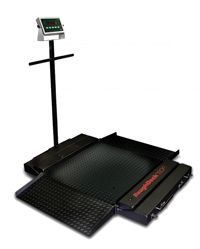 Portability and Flexibility go Hand-in-Hand with RoughDeck®
The RoughDeck® BDP can be used as a stationary or portable scale and features a low-profile design that allows optional access ramps to sit flush with the ground for smooth loading of barrels and drums. The BDP is equipped with live side rails so large items and pallets that exceed the platform dimensions can be accurately weighed.
The stationary BDP can be easily converted into a portable scale with the optional portability kit. The kit is compact and sits below the live side rails. The caster-engaging mechanism in the portabil- ity frame permits operators to effortlessly move the BDP from one location to another. When ramps are attached to the portability frame, the hinges allow the operator to rest the ramps on the scale platform while in-motion.
The BDP can be paired with any Rice Lake indicator. The indicator is conveniently attached to the portability frame pedestal, which is separate from the live weigh- ing platform, eliminating interference when zeroing the scale.
Stainless Steel Scale Cover makes the BenchMark HDP a polished traveling performer
The BenchMarkHDP portable platform scale, with capacities up to 500lbs (250 kg), is the ideal option for lighter industrial and commercial applica- tions. Choose between casters or large rear-mounted wheels. The 304 stainless steel cover is as durable as it is sleek.
This NTEP approved scale is designed with a sturdy mild steel base.
The column at the back of the scale serves as both a handle for moving the unit and a stand for mounting any of several Rice Lake optional indicators: IQ plus® 355, IQ plus 390, or IQ plus 590.
The handy DeckHandTM weighs and rolls anywhere
Move the DeckHand to any part of a facility and be instantly ready to weigh accurately. The platform is designed to weigh perfectly on all corners. Off-center product loading will not affect weighing accuracy.
DeckHand wheels only touch the floor when the unit is tilted back for movement allowing the weighing platform to remain stable on uneven floors.
Partner this scale with one of Rice Lake's battery-operated indicators. Install the IQ plus® 390-DC or IQ plus® 590-DC for a clear view of the weight no matter where the scale is located.