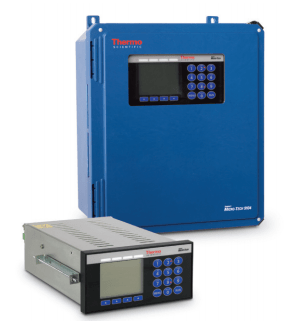 Features
Designed for continuous or batch loss-in-weight or gain-in-weight applications
State-of-the-art LCD graphic display with four line display
Self-diagnostics, alpha numeric alarm messages
Built-in USB for information upload and download
Multiple language interface
Improved communication capabilitiesincluding Modbus TCP and Ethernet IPas standard
Utilizes PID control and PEIC controlwith two independent control loops
Easy operation and calibration
Audit trail
Alarms and failure detection
Available in panel-mount andfield-mount versions
The Thermo ScientificTM RamseyTM Micro-Tech 9104 Loss-in-Weight Controller is specifically designed for continuous or batch loss-in-weight or gain-in-weight applications. The Ramsey Micro-Tech 9104 provides easy operation
and calibration with large easy-to-read displays, straight-forward, tactile-touch keyboard and software that prompts you step-by-step through the proper set-up and operational procedures.
Thermo Scientific Ramsey Loss-in-Weight Feeder
The continuous loss-in-weight principle involves weighing the entire feeding system (hopper, feeder and bulk material) by means of a static- type scale system, and controlling the discharge feed rate of the bulk material by means of a variable speed motor.
Material is discharged from the system via screw or vibratory tube or tray, with the measured "loss in weight" per unit time (dv/dt) compared to the desired (set) feed rate. The difference between the actual (measured) rate and the desired (set) rate produces a corrective action by the feed rate controller, the Thermo Scientific Ramsey Micro-Tech 9104, which automatically adjusts the feeder speed, thus maintaining accurate feed rates with no process lag.
When the measured weight in the hopper reaches the hopper low (refill) level, the controller affixes the feed system into volumetric control. The hopper is then quickly recharged (manually or automatically), and the loss-in- weight control action repeats.
In a batch loss-in-weight system, the design is similar to a continuous loss-in-weight system except that the accuracy of the final weight
at the end of the feed (batch) cycle is typically more critical than the actual feed rate control. The Ramsey Micro-Tech 9104 controller accomplishes this by providing a high feed rate signal to the variable speed drive for quick filling and then switching to a low feed rate control signal for precise, fine control at the end of the batch.