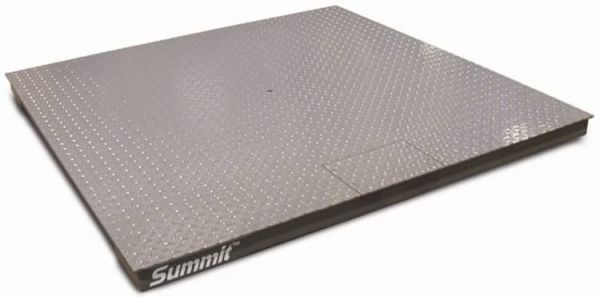 An Economical Choice Offering Exceptional Performance
TheSummit® 3000 Series provides exceptional performance in light industrial and Legal for Trade applications. While value-priced, the Summit 3000 also employs a rugged design to deliver efficient installation and operation.
The convenient top-access junction box is housed in a durable ABS enclosure and is protected from fork trucks and other industrial abuse by the Summit 3000's diamond treadplate steel deck.
The scale has fully adjustable, rigid polyurethane rubber feet to accommodate weighing on uneven surfaces.
The home run cable exits the weldment towards the interior of the scale, allowing you the flexibility to route it out any side of the scale to the digital weight indicator. This also means the indicator load cell cable is at floor level—reducing the potential for damage.
Standard Features
Four NTEP-certified alloy steel shear-beam load cells
Top access ABS junction box containing signal-trimsumming board
Steel diamond treadplate deck
Four adjustable rigid polyurethane rubber feet, 3in(76mm) diameter
One threaded eyebolt hole located in the center of theweldment for easy lifting
20ft of EL147 load cell cable for connecting scaleto an indicator Options/Accessories
Floor anchor plates, mild steel (set of two)
Four drilled deck holes for scale height adjustment Pit Frames For pit installations, frames are available with design drawings. Access Ramps For above ground applications, ramps are available for scale access convenience.