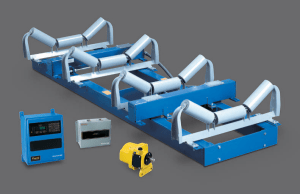 The Thermo Scientific Ramsey Series 14 precision belt scale system is specifically designed for high-accuracy and OIML R50 Class 0.5% applications requiring certification by government and regulatory agencies.Rated the most accurate weigher in the industry.
Applications
This highly precise belt scale system represents the world standard of accuracy and performance for load out, inventory monitoring and trade approved applications requiring certification.
Certification
The most widely certified electronic belt scale in the world, the Ramsey Series 14 is certified by OIML and EEC Class 0.5% standards.
System Components
The system has four major components: integrator, weighbridge, belt speed sensor and load cell digitizer.
The Weighbridge
Two,Three or four-idler suspension-type Ramsey 10-14 weighbridges feature full-floating unitized assemblies with no pivots and no moving parts.
Only eight bolts are required to mount the unit to conveyor stringers. Four environmentally-sealed precision strain gauge load cell assemblies are applied in tension to support the weighbridge.
The Belt Speed Sensor
The Ramsey 60-12C digital belt speed sensor is the most reliable and accurate speed-sensing device ever developed for belt scale service. Direct-coupling the sensor to the conveyor tail pulley.
The Electronics
The Ramsey 2201 load cell digitizer serves as an interface from the Ramsey 10-14 weighbridge to the Ramsey Micro-Tech 2201,3000 or 9000 integrator. The unit powers the load cells and converts the analog output signals from the strain gauge load cells to an accurate, stable digital output, which provides temperature stability.
Weighbridge Advantages
Rigid structural steel tubing construction with checkrods maintains positive alignment
No moving or wearing parts lead to a longer life span
No adjustments needed
Factory pre-assembled and easily installed
Four strain gauge load cells applied in tension
Full-floating, pivotless weigh platform
Performance Guarantee
On factory-approved installations, we warrant that the Ramsey Series 14 precision belt scale system will weigh and totalize to a value within ±0.125% of the test load at flow rates between 25% and 100% of the scale system's calibrated capacity when calibrated against an actual weighed material test. Furthermore, we warrant that the scale system will repeat to within 0.1% of consecutively run, simulated calibration tests.