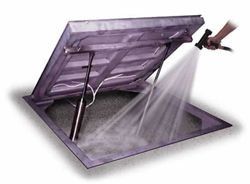 Known as the toughest, most accurate floor scale line in existence, the RoughDeck's legendary performance is now customized for food, chemical and other frequent washdown applications.
RoughDeck QC is the weighing solution for efficiency and safety
when cleaning cycles are tight. Our exclusive gas-shock design offers easy lifting, but even more importantly, eliminates danger- ous slamming of the deck when closing. For added safety and convenience, a manual sup- port bar swings into action during extended underdeck cleaning.
Legendary RoughDeck performance, innovative specialty features—the ultimate washdown solution.
Standard Features
Rugged washdown design
• Smooth, 304 stainless steel top deck
• Four stainless steel welded seal shear beam load cells
• Rigid 304 stainless steel tube frame
• Remote EL604 stainless steel NEMA 4X junction box
• Four adjustable stainless steel SUREFOOT support feet
• 20 ft of SURVIVOR® hostile environment load cell cable to connect an indicator to the junction box
• Safety bar