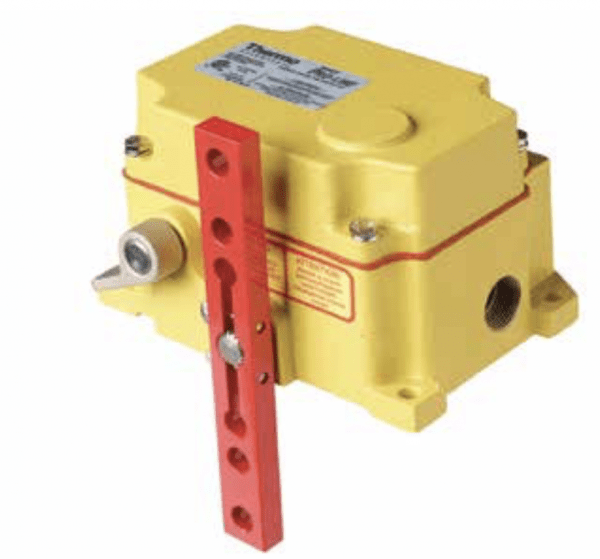 The Thermo Scientific Ramsey Snap Action Switch (S.A.S.) was specifically designed to function as Slack/Broken Cable type Pull Cord but without the false trips associated with the effects of weather conditions such as temperature variations affecting the cables, ice, snow, wind and vibration.
Features
Satis es OSHA, MSHA & CSA Push-Pull operating requirements
Snap Action Design
Opposing cable design eliminates false trips due to temperature variations
Self cleaning microswitch contacts
-40°C to +85°C operating temperature
Superior drawbar spring design is easy to install
Rugged, Corrosion-resistant, die cast aluminum enclosure
Optional Addressable Module
Optional Activation Flag
Optional 4 microswitch model Superior Design The Thermo Ramsey model SAS Snap Action Safety pull cord is a two-sided cable pull emergency stop switch.
In addition it is designed to ensure that should the cable become slack or is accidentally cut, the switch will activate so as to be repaired to normal functionality.
How it works
Pre-tensioned springs are installed at the extremity each side of the pull cord cable run. Cable tension is kept equal on both sides.
In normal operation, should an emergency present itself, the cable is pulled in any direction and the pull cord switch's arm rotates clockwise or counter-clockwise thus activating the micro switches in order to alarm. If the cable breaks or becomes slack, the opposing pre-tensioned spring pulls the
arm in that direction. The contact behavior for a cable that has broken is the same as pulling the cable.
Cable lengths are kept equal on opposite sides of the Pull Cord switch. This is particularly suitable to installations prone to wide temperature changes minimizing nuisance trips or stops associated with coef cient of expansion characteristics of actuation cables.
The snap action design uses a two step function. The switch arm must be pulled to a locked position. As a second step, an internal linkage then permits the spring loaded cam to fully rotate ensuring that both micro switches are activated together. This ensures that partial arm rotation due to temperature changes; snow, ice or wind effects on the cable cannot activate one micro switch and not the other.