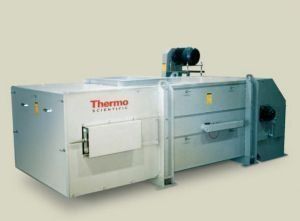 The Thermo Scientific Ramsey heavy duty weigh belt feeder offers accurate weigh feeding of a variety of demanding industrial applications with high feed rates.
Its endless belt design allows the belt to be changed with minimum downtime, and its heavy duty construction provides larger pulleys and a very sturdy and rugged frame for increased accuracy.
Features
• Heavy duty construction accommodates heavy loading • Designed for demanding weighing applications
• Open, partially enclosed or fully enclosed construction • Variable or constant speed motor
• Proven reliability
• Customized designs to fit your application
Precise feeding of process materials is often critical to maintaining product quality. A feeder that weighs accurately and reliably can reduce material waste, help maintain blend consistency and increase profits.
We have over 35 years of experience designing and manufacturing weighbelt feeders. Every feeder is designed to meet the specific needs of the application. We work closely with our customers to ensure that each system meets their expectations for performance and dependability.
The Thermo Scientific Ramsey weigh belt feeder is designed for very demanding industrial applications with high feed rates and heavy loading requirements. It accommodates flow rates up to 900 tons per hour, and belt loading up to 446.5 kg/m .
Theory of Operation
Material is fed onto the feeder through an inlet feed section equipped with a manually adjustable vertical slide gate to control material height. The scale carriage/weighbridge assembly contains a strain gauge load cell that measures the gravitational force of the material and converts this force measurement into an electrical output signal proportional to belt loading.
A digital speed sensor continuously monitors the belt speed and sends a representative signal to the electronics.
The microprocessor based Thermo Scientific Ramsey Micro-Tech electronics completes the weighing system by integrating the signals from the scale load cell and the speed sensor to produce an instantaneous rate. The electronics also provide an output signal to enable additional control and monitoring of the weigh belt feeder.
If your interest is in blending or batching applications,
the Ramsey Micro-Tech electronics is also available in a feeder controller version that allows the user to regulate the speed of the feeder. We manufacture a complete line of weighbelt feeders so you can be confident that we have a product to fit your application
Features and Benefits
A heavy duty weigh belt feeder incorporates our highly respected Thermo Scientific Ramsey Series 14 or Thermo Scientific Ramsey IDEA single-idler, pivot less weigh frames for the accurate measurement of your bulk materials. Other special features and benefits include:
Endless Belt Design: Extendable legs are included to permit easy replacement of the feeder's endless belt with minimum downtime.
Heavy Duty Construction: Larger pulleys and a very rugged, heavy-duty frame make this an ideal feeder for difficult, high-rate applications.
Choice of Belt Widths: Available in several belt widths from 450 mm to 1,800 mm and longer.
Various Feeder Lengths: Customize your feeder length to fit
your application, from 2000 mm to 8000 mm and longer.
Speed Drives: Choose from constant speed or variable speed drives.
Structure Design: Choose from open, partially open, or fully enclosed designs.
Other Available Options: Drag-type bottom clean out, belt misalignment switches and safety pull switches.
Options
• Top covers
• Side covers
• Bottom covers
• Variable speed drives
• Flow/no-flow switches
• Run-off switches
• Safety pull switches
• Plugged chute switches
• Stainless steel construction
• Shut-off/maintenance gates