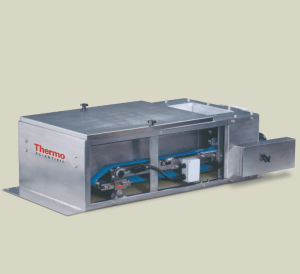 The Thermo Scientific Ramsey Mini Weigh Feeder offers accurate weighfeeding of industrial materials at moderate feed rates. Its unique cantilevered and formed channel frame design provides a strong and sturdy weigh structure and allows for quick and easy maintenance.
We have over 30 years of experience designing and manufacturing weighbelt feeders. Every feeder is designed to meet the specific needs of the application. We work closely with our customers to ensure that each system meets their expectations for performance and dependability.
The Thermo Scientific Ramsey Model mini weighbelt feeder is designed for industrial weigh feeding applications with moderate feed rates and belt loading requirements. It accommodates flow rates of approximately 0.5 tons per hour up to 100 tons per hour, and belt loadings of
15 kg/m to 170 kg/m .
Theory of Operation
Material is fed onto the feeder through an inlet feed section equipped with a manually adjustable vertical slide gate to control material height. The scale carriage/weighbridge assembly measures the gravitational force of the material and converts this force measurement into an electrical output signal proportional to belt loading.
A digital speed sensor continuously monitors the belt speed.
The microprocessor-based electronics integrate the two signals to produce and display a true rate and a total weight fed. The electronics also provide an output signal for control and monitoring purposes.
For more information, refer to the separate product specification sheet on the Thermo Scientific Ramsey Micro-Tech 2000 or 3000 series of electronic integrators.
Features and Benefits
The Ramsey mini-range weigh belt feeder incorporates our highly respected Thermo Scientific Ramsey Series 30 single-idler, pivot less weigh frame for the accurate measurement of processed materials. Other special features and benefits include:
Cantilevered Frame: This feature permits quick and easy removal of the feeder's vulcanized endless belts for cleaning, maintenance and belt replacement.
Formed Channel Frame: This design feature provides a sturdy and rugged weigh structure for precise weighing.
Choice of Belt Widths: This weigh belt feeder is available in belt widths, from 250 mm to 900 mm .
Various Feeder Lengths: Customize your feeder length to fit your application, from 1,500 mm to over 6000 mm .
Construction Material: Choose from mild steel or stainless steel construction.
Speed Drives: Choose from constant speed or variable speed drives.
Structure Design: Choose from open, partially open, or fully enclosed designs.