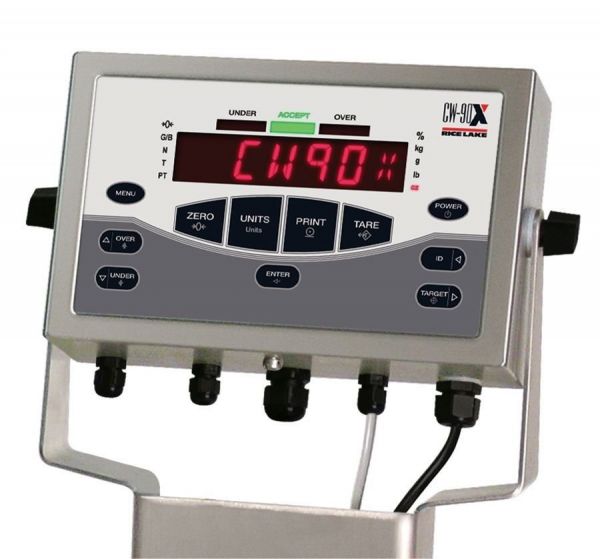 CW90X
Built to withstand rough handling and extreme washdown requirements, the CW-90X will enhance productivity and reduce cost of ownership. Increase profits with the most dependable and durable equipment in the industry.
Durable
The CW-90X is built for the demanding, heavy-duty environments of today's food processing industry. Starting with its IP69K rating, you won't find a more robust checkweigher on the market. The hermetically sealed stainless steel load cell and watertight enclosure are guaranteed to withstand the harshest washdown environments. The CW-90X is constructed of 304 stainless steel with a five-point overload system, helping prevent load cell damage and provide the most economical solution to a majority of applications.
Sharp knife points are no match for the smooth, hardened surface and non-tactile key function of the unique piezo keypad.
The CW-90X also features the unique Gore® PreVent® breather vent with GORE-TEX® material. This device is designed to let air flow in and out of the indicator while simultaneously blocking water and dust. In areas of extreme temperature change, this breakthrough technology helps eliminate the possibility of damaging condensation. With so many enhanced features, the customer-driven design of Rice Lake's CW-90X is built to outlast the competition, hands down.
Practical
The CW-90X has the capacity to store up to 50 individual IDs to recall previously stored information. It can also be used with optional Ethernet, USB, and fiber optic ports to capture production floor data.
When a standard size scale base or column doesn't quite fit your needs, Rice Lake is positioned to deliver a custom solution that's quick and cost effective for nearly any weighing application.
Simple
Users of Rice Lake's CW-90X will find it to be incredibly simple while offering a powerful assortment of useful features. Program the CW-90X to accept product at set values and then use the checkweigher by relying solely on the bright over/ under lights. A red light displays an under weight condition, yellow is over, and a green light indicates the product is within the specified target.
Rice Lake's CW-90X puts today's demanding checkweighing needs in an exceptionally user-friendly package.